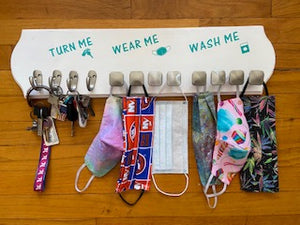 Choose your own wood stain or paint color. (Shown is light wood with white paint) 
Pick your font color, (Shown is Aqua)
***You will receive a separate email to choose your font and wood color choices.***
Select how many hooks you'll need depending on the size of your house hold. 
Shown is for a family of four. Everyone gets 3 hooks. One for keys, one for clean masks, & one for dirty masks. 
Pricing starts at $30 (Family of 5 or smaller) For families of 6 and larger, the price will vary based on the amount of household members.